Are Your PR and Content Marketing Strategies Driving Actionable Results?
Learn How We Can Get Quantifiable Results for You.
THE AVISTA DIFFERENCE
Telling a story that stands out takes innovative thinking. Getting that story in front of your target audience takes tenacious execution. Avista is a master of both.
At Avista, we live at the intersection of public relations, content creation and digital marketing – shaping the content-driven strategies that generate measurable results for technology companies.

Public Relations
Effective PR. It's more than creating good press releases (but you'd be hard pressed to find better writers!) and having great contacts (we surely have them in droves!). It's about shaping conversations with the carefully crafted stories the media craves to generate coverage with both presence and meaning.
Get Covered
See how our public and media relations strategies generate volumes of coverage.

Digital Content
With technology in our DNA and journalism as our passion, we develop content that truly speaks to your targeted personas. Whitepapers, solution briefs, infographics, slideshares, blogs, and more, Avista creates the stand-out digital content that will quickly move your buyers through the engagement cycle.
Sell More
See how our content and digital marketing strategies will engage and attract your target buyers.

Integrated Marketing
Looking holistically at your business objectives, Avista builds the integrated marketing strategies that are laser focused on the programs that align to your goals. From content creation and thought leadership to brand building and social engagement, we deliver the visionary marketing that drives results.
Stand Out
See how our integrated marketing programs create the "always on" marketing campaigns that quickly activate your prospects.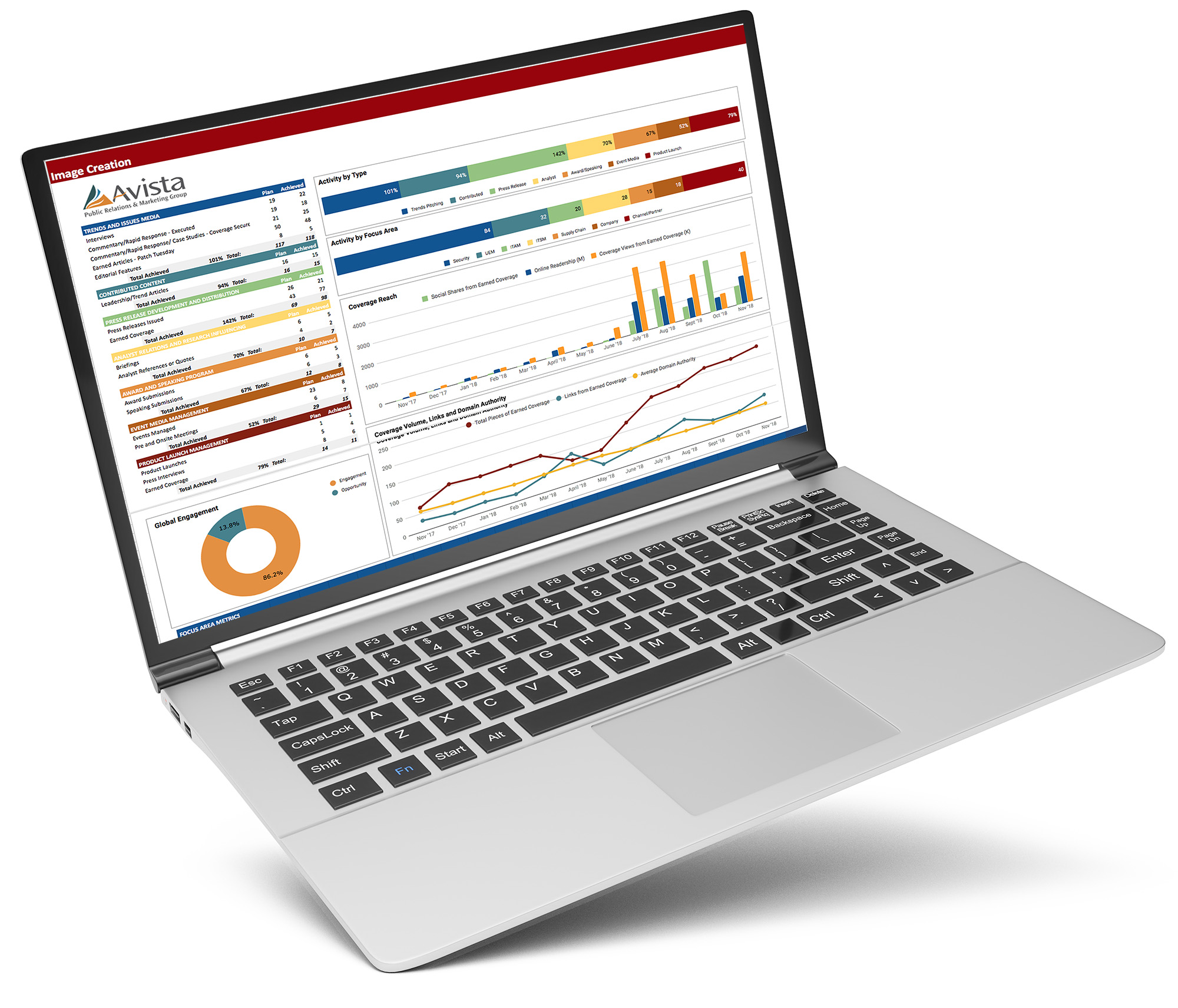 MEASURED SUCCESS
Get a Dashboard View into Your Engagement.
When it comes to results, we put our own skin in the game. We'll track your program goals against quarterly achievement in a real-time engagement dashboard – so you have consistent control over your program and your investment.
OUR WORK
Read about the work we have done for our clients.
To create a strong digital marketing campaign – one that truly provides the results you want – marketing professionals must ensure they communicate across their entire team on the detailed goals you need to achieve, [...]
Who says that email is a dying communication platform? Businesses all over the world are still using it to their advantage. Email marketing campaigns can be helpful in a number of ways – to help [...]
We've all heard of the saying "work smarter, not harder". Well, the same sentiment applies to your content writing and marketing. Picture this: you've worked tirelessly to create an asset – a white paper, an [...]
Ready to Stand Out?
Living at the intersection of public relations, content creation and digital marketing, Avista shapes the content-driven strategies for technology companies that generate measurable results.
...stand out from the crowd.